Dr. Kim is currently on maternity leave and is not taking appointments until further notice.
Having grown up on a rural farm in Oregon, surrounded by horses, cattle, dogs, cats, and every animal in between - it was no surprise that I dreamed of becoming a veterinarian. I graduated from Oregon State University College of Veterinary Medicine - and soon after moved to Colorado to follow my dream of working at a mixed animal practice in the Foothills. I loved working with a wide variety of animals and witnessing all different aspects of the human-animal bond, even those that may be considered "unconventional." I (laughingly) became the practice's designated "chicken-doc" and proudly treated every one of my patients with the utmost compassion and respect.
During my time in private practice, I found myself gravitating towards the appointments surrounding pain management, hospice medicine and end-of-life care. This interest strongly influenced me to complete the certification necessary to become a Licensed Veterinary Acupuncturist in 2016, furthering my ability to improve the quality of life of my patients with alternative methods of care.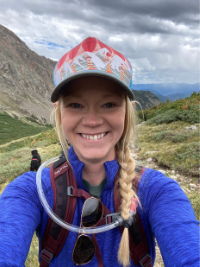 My next career trajectory had me working for several years specializing in mobile end-of-life care. In this – is where a large part of my heart lies. My ability to help families come to terms with, and find comfort in the transition towards end-of-life is something in which I take immense pride. The very foundation of becoming a veterinarian is a promise to help ease pain and suffering. My sole purpose as a veterinarian is to help pets maintain their comfort and dignity for as long as we are lucky enough to have them, and when the time comes, to assist in providing them a peaceful passing within the comfort of their own home.

Seeing the improved comfort levels, and reduced anxiety of pets in the home - I started getting the urge to open my own mobile veterinary practice. I greatly missed the mixed animal aspect of my work, therefore in 2020 - Alpine Mobile Veterinary Care was born!
My mission is to provide comfortable, compassionate, veterinary care in the luxury of your own home. As a veterinarian, I value ease of approachability, kindness and bedside manner as well as medical knowledge. Some things just can't be taught in my opinion. I can't promise I'll know every answer to every question, but I have resources to figure it out in a timely manner to deliver the best veterinary care I possibly can for your furry (or feathered) family members. My ultimate goal is to build a lasting relationship with my clients and their pets – working together to come up with the best solution in terms of their care.